Clearwater Beach Pier 60 Prepares for the Republican National Convention
Clearwater Beach Florida – If you are coming to the 2012 Republican National Convention or just will be in the area the next two weeks there's one more thing to add to your list of fun and free things to do – visit the Clearwater Dolphin Exhibit at  Clearwater Beach Pier 60.  Jack and I went last weekend to beat the crowds and bring back some photos and video for you.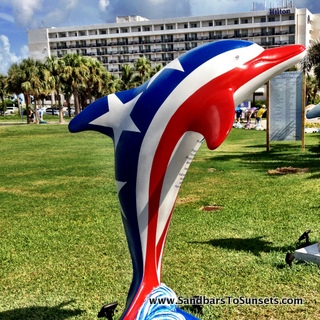 Clearwater Dolphins on Exhibit at Pier 60
The Clearwater Beach Chamber and local businesses worked together to sponsor and create an amazing exhibit of art – 50 bottle note Dolphins line the sidewalk at Pier 60 – you will be greeted by these festive dolphins each with a personality all its own. I shot a quick video to give you a sneak peek at them however I would strongly encourage you to go see them for yourself – they will only be on exhibit at Pier 60 until Sept 4th.
Video of Clearwater Dolphins
There are so many I really liked especially "Hope" from the Suncaost Hospice Foundation and the one painted by Winter the Dolphin – which Clearwater Dolphin is your favorite? Tell me us the comments below….
P.S. If you are thinking of buying or selling a waterfront homes in the Tampa Bay area and value hard work, knowledge and results then please give Jack and I a call at 727-710-8036 to see how we can best help you. We're committed to delivering Results daily based on Integrity, Knowledge and Experience – helping you buy or sell your luxury or waterfront home in Pinellas County   
We'd like to be YOUR  Clearwater Beach Real Estate Team! Call us today…
Warmly,
Cyndee and Jack Haydon, Realtors
Charles Rutenberg Realty
1545 S. Belcher Rd
Clearwater Florida 33764
727-710-8035 (Cyndee's cell)
727-710-8036 (Jack's cell)
Check out over 50 Tampa Bay Waterfront and Beach Client testimonials here > https://sandbarstosunsets.com/clients/