Clearwater Florida Celebrates Holidays in Style – Clearwater Christmas Parade
Clearwater Florida – Update on Dec 2015 Clearwater Christmas Parade – I wrote this original post in 2007 and in 2015 Clearwater isn't having an official christmas parade. Clearwater turned 100 this year and has
had so many events to celebrate however if you're looking for a Christmas parade many of the other nearby cities like Largo and Dunedin are. Clearwater is  still having their annual Island Estates / Clearwater Boat Parade on Dec 12, 2015 and we put together a guide with best places for the public to watch at each one, time, route map and  all the details of this boat parade and all the others in the Tampa Bay Area (over 20)  >>>  Click here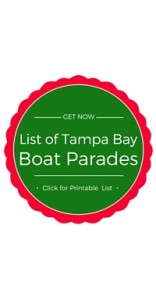 <———————  Original Post below ——————–>
Clearwater Christmas Parade 2007 Memories
Today was the City of Clearwater's Annual Clearwater Holiday Parade and also included a downtown Festival from 11:00 am to 4:00pm.
The Parade began at Crest Lake Park and Cleveland Street was closed from Crest Lake down to Coachman Park.
Here's a shot of the Costco float with my friend, Tim Glenn, getting into the fun. Costco Wholesale located in the Clearwater Mall is a great supporter of the City of Clearwater and our community activities. We are lucky to have them in our community. Bright House is another company that goes above and beyond and today was no exception – they were here in full force.
While it was overcast in Clearwater this morning, it didn't dampen anyone's spirits. When the parade began it was obvious it showcased Clearwater community pride and participation from some of our leading community organizations like out local Boy Scout and Girls Scout troops, High School Bands, all the Clearwater City Commissioners, the Mayor, Frank Hibbard and the City Manager, Bill Horne, clowns, non-profits, leading businesses and more. We enjoyed festive floats from:
City of Clearwater Float;
Clearwater Gas System;
Bright House Network ;
United States Power Squadron Safe Boating Float
The Boy Scouts – Copperheads;
Santa Margarita Krewe;
lil Red Wagon Clowns – Largo, Florida;
Here are some of the photos I took – thought you'd enjoy the Holiday fun – The great part about Clearwater is that there are always fun things to do here.
Beads and candy were a plenty for the children along the parade route.
Clearwater is a city that hasn't lost that local flavor of a good city parade.
Good 'Ole Fashion Fun in Clearwater Florida
There are so many fun activities going on in Clearwater and Pinellas County this holiday season.
Tonight there were several Holiday boat parades in Indian Rocks Beach, Madeira Beach and Tarpon Springs.
We have noticed lots of our Clearwater neighborhoods and our neighbors getting into the Christmas spirit with lots of lights and decorations – seems to be a season where everyone is feeling festive.
Maybe it's part of the effort to remember it's December when it's 82 degrees in Clearwater Florida in December. 🙂
Wishing you time with family and friends to enjoy the upcoming week – can you believe there are just 10 days until Christmas – Are you ready?
Want more info, click to Search all Clearwater MLS listings includes all the homes and condos for sale in the Tampa MLS! 
Click to Subscribe to Sandbars to Sunsets and get the Daily Digest by Email