Whether you're upsizing, downsizing, or opting for a different lifestyle, the time has come for you to consider selling your beach home. Selling a beach home takes planning and preparation to sell in the quickest time possible for the highest price. Following these handy tips and tricks can help you along in the journey to selling your beach house.
Best Time to Sell
More people are searching for their perfect beach house between late winter and early spring. Although you can sell your home at any time, especially if the price is right, many buyers set the goal of being moved into their new beach house by Memorial Day weekend. Memorial Day weekend is the official launch of summer and the time when new owners can enjoy the lifestyle of a beach house to the fullest.
Choosing the Right Agent
Not every agent has the know-how or experience to sell your beach house. A real estate professional with expertise in waterfront properties can help guide you through the process and can educate potential buyers about the nuances of a beachfront lifestyle. Agents also have different personalities; it's important you work with an agent with whom you have a good rapport. Ask for recommendations from friends, family members, associates, and neighbors. Research agents thoroughly before deciding which one with whom you'd like to work. Interview agents so you'll know their success rate regarding time on the market, asking price vs. selling price, and the number of price reductions applied to the property.
Staging Your Beach Home
Staging a home, whether inland or waterfront, is an important part of preparing your house to sell. However, when it comes to your beach house, it's as important to showcase the lifestyle as it is the property. Staging is a term used to describe the process of dressing your home for success to sell. When you stage your home, it involves de-cluttering, organizing, depersonalizing, cleaning, and arranging furnishings into conversational areas. In beach homes, you also beautify the shoreline and entertainment areas in addition to the curb appeal of the front side of your property. Views are significant, so wash the windows and open the window dressings to allow in the most light while showcasing the views.
Renting vs. Selling Your Beach Home
When you decide it's time to move out of your beach house, you must ask yourself the question: Do I sell or do I rent? Each has advantages and disadvantages to consider. The first issue is whether or not you need the cash from the sale of your beach house to purchase your next home or if you're financially secure enough to use the beach house as an investment property. When you sell, you may end up paying capital gains taxes, which are non-existent if you rent instead. Second, you must ask yourself if the tasks and risks of being a landlord are worth the investment of time and money, although many of those expenses are tax deductible. As a landlord, you are responsible for maintenance, repairs, and damage caused by the renters, or face the risk of paying the mortgage out of pocket if tenants default on payments.
Setting the Right Price
In addition to listing your home in the right season, pricing the home competitively from the beginning is imperative. When you price too high, you won't attract buyers. When you price too low, you risk losing money. Although no one can tell you matter-of-factly what price tag you put on your property, it doesn't have to be guesswork. There are systems and calculations that, when combined, can give you an accurate idea of what your home is worth in the current real estate market – which may be more or less than what you paid when you bought the house.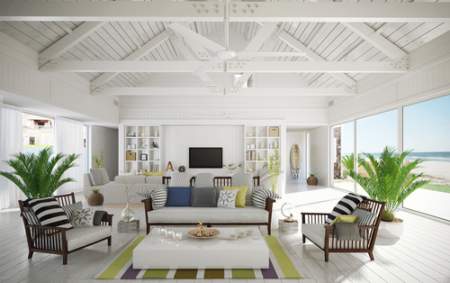 Keep in mind that you cannot charge buyers for memories you made while enjoying your beach house. There is no sentimental value in real estate; it's a business transaction. To get an idea of how to price your home, you could begin with an online home valuation calculator, although you cannot depend entirely on that number. Home valuation calculators measure data but lack the human factor.
Next, consider having the home pre-appraised. You can't use that estimate later when an appraisal is mandatory, but it will give you a reliable estimate of the value of your property.
Then, consult with your real estate agent. Your agent will provide you with a CMA, or a comprehensive market report, detailing recently sold homes in your area that compare to yours in size, style, and features.
With all of that material in your arsenal, you can then explore competing houses for sale on your own. Tour the properties from a buyer's perspective and take note of the differences – which house would you consider the better value?
Information to Have on Hand for Buyers
Buyers have a lot of concerns when making a significant investment, particularly with waterfront properties. You can help alleviate some of those worries by providing certain information that can lay those thoughts to rest. Because you're selling the lifestyle as well as the property, it's a good idea to supply buyers with information such as depth of water, boating rules, weather trends, etc. A C.L.U.E. report may also be helpful, which is verification of insurance claims (or lack thereof!) made on the property. A home warranty can assure buyers that they won't be stuck holding major repairs on their own during the first year. Another selling point is to provide potential new owners with a list of nearby amenities such as boating docks, marinas, restaurants, fishing gear, recreation, etc.
Conclusion
When you decide to sell your beach home, you can increase your odds of selling quickly and for top dollar when you take the time to prepare. Know when to list your house. Work with an agent who specializes in beachfront homes. Stage the house to show off its best features. Determine whether or not you're better off selling or renting. Set the right price, and provide buyers with valuable information that can help them feel more secure in their investment.
Your real estate agent is the best source of information about the local community and real estate topics. Give Cyndee & Jack Haydon a call today at 727-710-8036 to learn more about local areas, discuss selling a house, or tour available homes for sale.