Sanding Ovations and Thanksgiving Tradition in Treasure Island Florida
Treasure Island, Florida– Sanding Ovations Master Cup and Music Festival is in it's 4th year and held annually in Treasure Island  in November – usually on the weekend before Thanksgiving.  Our local group PinellasEats went out on Sunday afternoon and took in the festival, a gorgeous sunset and hung out for a bite at Sloppy Joe's on Treasure Island FL. 10 world class scultptures turned 50 tons of sand into works of art you owe it to yourself to see. Here's a sneak peak at some video I shot as the event was getting underway…

Artists and sculptures from all over the world come to create their masterpieces for the Sanding Ovations competition and for all of us to enjoy. The event usually has a large festival with it as well with bands playing and a huge craft show with vendors and the likes along the sand on Treasure Island. I was surprised to even see car parked on the beach for $10 each at the St Pete lot just north of the event.
There is a competition and also they award the people's choice. This year one of the local schools had a great idea I thought and made to "photo ops" with one sand sculpture that was an Angel that said piece on earth and then there was a snow man that had presents (made out of sand & water) next to him that said Happy Holidays – it would have made the perfect family shots for your Christmas or Holiday cards.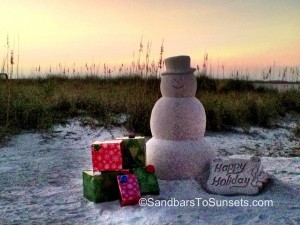 Congrats to Treasure Island FLorida Sand Sculpture Capital of Florida
It's a great place to vacation or own your own Treasure Island Beach condo – lots to choose from including vacation condos earning up to $50,000/yr – giving you the best of both worlds – loving the Florida Lifestyle.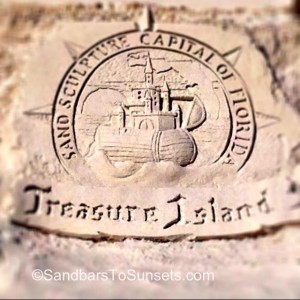 If you would like to join us on our local beach group trying different local places – feel free to call or join our PinellasEats facebook group and if you are thinking of buying or selling a Treasure Island waterfront home or beach condo we'd love to discuss how we can help – You can reach us at 727-710-8036 – Your Gulf Beaches Luxury & Waterfront Specialists – hear what over 60 others have to say on video here on Beach Real Estate Agent Reviews – Testimonials