Are you considering putting your Clearwater Beach condo on the market?  If so, you will likely want to get top dollar for your property. Here are 5 Tips for Selling a condo in Clearwater Beach Florida and get top dollar in today's real estate market. Selling a Clearwater Beach condo is something that you can easily do, of course, as this is a top area for beach real estate. Getting top dollar for this condo, however, may take a bit of work. Here are some suggestions of things you can do to get the most out of your Clearwater Beach condo: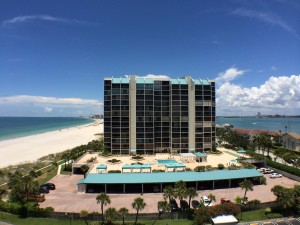 Tip 1: Update the Interior
One of the things that condo owners can do to raise beach condo values is to update the interior. You will be surprised by how much of a difference a quick coat of paint or an updated bathroom can make when it comes to getting top dollar for your condo. Keep in mind, however, when making these changes that you want to remain conservative with your changes. Though a loud color of paint might seem like a great idea to you, not all potential buyers will like this. It is best to stick with neutral colors and allow the new buy to choose the decor color themselves.
Tip 2: Brighten It Up
Another very easy addition that you can make in your Clearwater Beach condo in order to make top dollar is to brighten it up with new lighting fixtures. Again, you want to err on the side of caution when it comes to adding new lighting and stick to the conservative side, but make sure your home is bright. The best place to add new lighting, if you can only add in certain areas, is the kitchen or the entrance area. Lighting will help a small kitchen look larger and will make a great first impression in the entrance area of your condo.
Tip 3: Go as Green as You Can Reasonably Go
It is also possible to raise beach condo values by bringing in environmentally-friendly changes. Something as simple as installing a water saving shower nozzle or upgrading your appliances to energy efficient models will be a great way to lure potential buyers. The nice thing is, you don't have to make a huge investment into your home when you do this as many home improvement items on the market already have energy-efficient features built into them.
Tip 4: Clean Out Clutter
Even if you believe your clutter looks neat and tidy, any clutter in your condo can make it appear unkept. When you choose to clean out the clutter from your home, however, not only will you be making your condo look a lot neater, you will also find that your condo appears larger as well. The larger you can make your space appear, the more money you can bring in when selling a condo in Clearwater Beach Florida.
Tip 5: Choose the Right Realtor
Finally, you will find that choosing the right realtor is also a great way to ensure that you are getting top dollar when selling a Clearwater Beach condo. A good Realtor will have other suggestions for you about how you can get more money in the sale and will also be at your side throughout the entire selling process. When you are ready to sell your  beach condo, contact Jack and Cyndee Haydon at 727-710-8036.
Curious what your Clearwater Beach condo value is today? Click here for latest  Clearwater Beach Condo Values