Tampa Bay Short Sale Myths – Helping Waterfront and Beach home owners Avoid Foreclosure
We help home owners from Clearwater Beach to Tierra Verde along our 26 miles of beaches and Tampa Bay waterfront and while we are seeing the Tampa Bay waterfront real estate market turn to a balanced or seller's market (mostly due to lack of supply) – the fact remains that there are still many homeowners looking to avoid foreclosure and understand their Tampa Bay short sale options.  It's understandable when you realize we're a long way off from the high prices we experienced 5 years ago.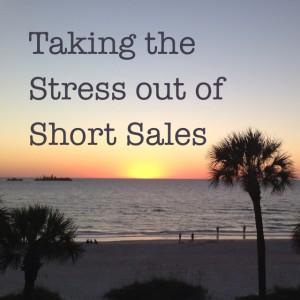 Our Pinellas Beach real estate market has seen a 50% correction off record highs which means people who purchased anywhere from late 2004 to 2010 can still find themselves with properties with mortgages and costs to sell coming out to be more than they can sell their Pinellas waterfront property for today.
Good News for Tampa Bay Home Sellers – Easier Now to Get a Tampa Bay Short Sale
Watch this short video and see why there have even more options than ever for Tampa Bay home owners to avoid foreclosure today. Obviously each situation is unique, so if you want to avoid foreclosure and have questions, even if it's What is a short sale? – no worries, so you're safe asking us anything about short sales or any other real estate questions you have when considering selling your waterfront home or condo in today's market.  We're be happy to help you get them answered with our team specializes in helping Pinellas waterfront home sellers …
As a Pinellas Waterfront or Beach Home Owner Have you wondered….
If I want to sell my home – do you have to be delinquent to have a short sale approved
If you're getting relocated with your job is there any short sale exception
If you work at MacDill / in the US Military and get reassigned – is there any exception for Military hardships
Will you have to sign a promissory note for the short fall or will they come back for their money later
How can you cover the costs of moving out when you're upside down
What happens if you have more than one lien and have heard junior lien holders won't agree – any help with that
If you've had questions like these you'll be happy to see these Myths busted in our video below….
All you have to do is Call us now at 727-710-8036 for a free Confidential Consultation to understand all your options.  You can also be comfortable that there's never any pressure from us – we always treat people the way we'd like to be treated – with caring respect and empowering knowledge because we believe when your choices are clear your decisions are easy.  Whether you decide to pursue selling your home or not – we want to make sure you have all the information you need.
So in summary, if you are thinking of buying or selling a waterfront homes in the Tampa Bay area and value hard work, knowledge and results then please give Jack and I a call at 727-710-8036 to see how we can best help you. We're committed to delivering Results daily based on Integrity, Knowledge and Experience – helping you buy or sell your luxury or waterfront home in Tampa Bay  
Call us today…
Warmly,
Cyndee and Jack Haydon, Realtors
727-710-8035 (Cyndee's cell)
727-710-8036 (Jack's cell)
Check out over 50 Tampa Bay Waterfront and Beach Client testimonials here > https://sandbarstosunsets.com/clients/