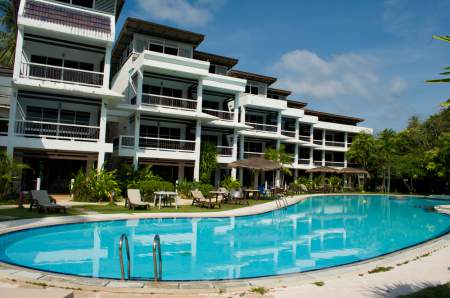 Choosing the condominium lifestyle in Clearwater Beach, Florida and Sand Key was the easy part. The challenge is in selecting the condo community that is right for you, and there are so many outstanding communities from which to choose. Crescent Beach Club in Clearwater invites you to consider the possibilities of calling Crescent Beach Club your home.
Many features set the Florida condominium communities apart from one another, and architectural styles are among the top factors. Crescent Beach Club's buildings contain curves built into their layout, taking full advantage of the panoramic views of the Gulf of Mexico. Enjoy hushed mornings or relaxing evenings enjoying a soothing beverage while breathing in the beach atmosphere. The community consists of two buildings, each with 20 floors and 241 units.
Aside from architectural design and beachfront access, another differentiating factor between condominium communities is their amenities. Crescent Beach Club caters to all of your needs including a renovated social room, tennis courts, an updated fitness center where you can work out on state-of-the-art equipment with unmatched ocean views. Take a dip in the heated swimming pools; enjoy indoor and outdoor Jacuzzis, billiards room, separate his and hers steam rooms, under-building parking, and a grand parlor complete with large, flat screen television and a fireplace for getting cozy.
Of course, if you're considering condos for beachfront luxury lifestyles, you can't leave out the pampered pooch. Not all condominium communities are pet-friendly, but the Crescent Beach Club Sand Key welcomes one furry family member under 20 pounds per household.
Crescent Beach Club is tough to beat when it comes to location. Not only is the community situated just steps away from the white sandy beach and ocean waves, but is also in walking distance of a variety of area features such as restaurants, shops, and recreation. Crescent Beach Club is just two miles from Clearwater Beach and is less than half an hour away from the Tampa International airport. The Crescent Beach Club community is located at 1340 Gulf Boulevard in Clearwater, Florida 33767.
There's nothing average about beachfront lifestyles, but on average, the sales price for homes in the Crescent Beach community are around $515,000 for a home with approximately two bedrooms, two baths, and around 1,300 square feet of living space. There are endless options for design styles, floor plans, and features, but prices range from a low end of around $330,000 for bare bones single bedroom condo, and around $815,000 for a three bedroom, three bath home with about 2,000 square feet of stretching space.
When you're looking for a condo on the beach, including Crescent Beach Club on your list of must-see communities. Keep Crescent Beach Club on the list your narrow down based on location and convenient access to resources and amenities. The clever curved design helps secure the spot on the list of potential condos to buy, supported by an array of conveniences and comforts such as heated swimming pools, workout facilities, covered parking, and other community perks. Of course, you'll have to decide which feature ultimately won you over and convinced you to call Crescent Beach Club your Florida home.
Your real estate agent is the best source of information about the local community and real estate topics. Give Cyndee & Jack Haydon a call today at 727-710-8036 to learn more about local areas, discuss selling a house, or tour available homes for sale.