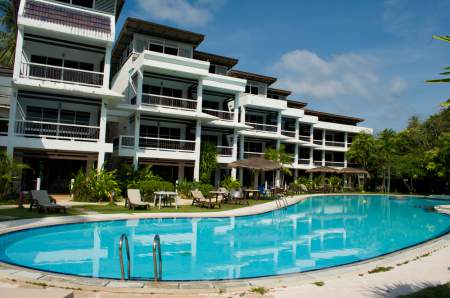 A substantial presence in Clearwater, the South Beach Condominiums offer luxurious beachfront condominium lifestyles with a convenient location, comfortable amenities, and a lifestyle designed to suit you and yours.
Sand Key South Beach is located at 1430 Gulf Boulevard. Construction began in 1973 on the beachfront condo community and continued through 1982 and the completion of its fourth building. The community consists of four buildings constructed by US Steel Corporation, to encompass 12 floors each and a total of 470 residential living spaces.
Two bedroom homes in the South Beach Condominium community include about 1,300-1,400 square feet of living space and sell for around $250,000 – $450,000. Tree bedroom homes have around 1,500-1,600 square feet of living space and sell for between $300,000 and $500,000. Maintenance fees for tenants run around $500-$900 per month.
Homes in the Sand Key, South Beach community, come complete with private balconies, perfect for drinking morning coffee while taking in the sights and sounds of the ocean, or in the evening while the sun sets in a kaleidoscope of colors across the water.
There's no need to worry about the furry family member in your crew. Although not all condominium communities are pet friendly, South Beach Condos allow each unit to house up to two pets weighing in at 20 pounds each, or less.
Many of the two and three bedroom condominium homes in the South Beach community have been renovated, remodeled, and updated to include new carpets or laminate flooring, state-of-the-art appliances, high-end finishes such as granite countertops or wood cabinets, and other creature comforts that add value to home. But, as the new owner, you'll also have the benefits of being able to imbue your new space with your personal style.
South Beach Condominiums has a feeling of tranquility and privacy in its own community vibe but is also conveniently located with easy access to a wide variety of restaurants, shops, entertainment, and recreation options. And, for getting around even easier, residents and visitors can take full advantage of the Jolley Trolley, the public transportation system catering to Clearwater Beach and Sand Key.
Beachfront luxury living is a highly sought-after lifestyle in Clearwater, and with good reason. The views of the Intercostal waters, the Gulf of Mexico, and Clearwater Beach are breathtaking, to say the least. The recreational opportunities of living in a resort vacation destination make it nearly impossible to suffer from boredom or lack of things to do. And the amenities of condo communities make living a little more convenient and comfortable – and, thanks to added security, a little safer.
Not all condos in Clearwater are equal. Some condos cater to the lavish with a focus on high-end finishes, creative architecture, and design embellishments. Others recognize the fit-and-fun nature of the area and enhance the living conditions with fitness facilities, swimming pools, and other ways to stay in shape. When you consider location, price, amenities, and lifestyle in your determining factors of finding the perfect condominium home in Clearwater, you may find yourself ticking off all the boxes at South Beach Condominiums.
Your real estate agent is the best source of information about the local community and real estate topics. Give Cyndee & Jack Haydon a call today at 727-710-8036 to learn more about local areas, discuss selling a house, or tour available homes for sale.