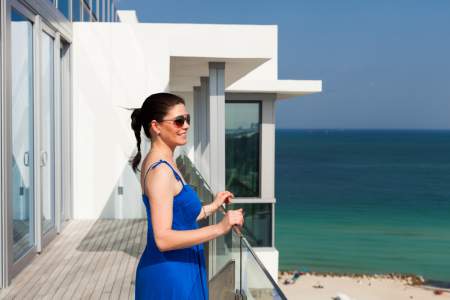 Luxury beachfront condominium living is the stuff dreams are made of, and some of those dreamy lifestyles are crafted at Cabana Club in Clearwater Beach's coveted Sand Key community in Florida.
The comfortable condominium community consists of two buildings, each eight stories tall. The buildings, erected in 1984 and 1986, possess a unique architectural charm that sets it apart from other condominium communities in Clearwater Beach Florida. The structures, designed in the likeness of the Victorian-era Bellair Florida's Bellevue Baltimore Hotel, house a total of about 88 residences, ranging in size from 960 square feet to 2,800 square feet, offering two and three bedroom units. Recent averages indicate the popular housing option to be a three bedroom, three bath home of 1,400 square feet for around $498,000.
If the beachfront location and charming architecture don't draw you in, perhaps the amenities will. Cabana Club condominium lifestyles in Clearwater Beach, Florida include access to the heated swimming pool, fitness center, recreation building, and tennis court.
Cabana Club luxury beachfront condominiums are located at 1582-1586 Gulf Boulevard in Clearwater Beach, Florida 33767, south of the Sand Key Bridge. The community is steps from the white sands of the beach but is also within walking distance of many restaurants, shops, and recreational options. And, for those who are in total chill mode and don't want to cook or walk to a nearby restaurant, the Cabana Club Restaurant is on-site and ready to serve up hot and fresh comfort foods.
Some of the units are in original condition, incredibly well maintained, and in mint condition ready for move in. Other units have undergone recent renovations to upgrade their condition.
Although thousands of tourists make waves through Florida beach vacation destinations each year, that won't be the case where you live. The Cabana Club condominiums require a minimum rental period of 180 days with association approval, so there won't be a heavy turnover of vacationing party animals. This limitation on rentals creates a solid rapport among residents, preserves the quality of lifestyle, and also allows homeowners the benefit of converting their condominium into a long-term rental property.
Imagine waking in the morning to the sounds of waves crashing on the shore. Seagulls fill you in on the morning news through squawks and squalls while a cool, salt-infused breeze combs through your uncombed hair. The coffee is hot, the morning calm, and it's a beautiful way to settle the soul into the day. Or, trade in that hot coffee for a cool beverage of choice to enjoy while taking in some of the most amazing sunsets you'll witness. Every night, at your doorstep, the sun tucks itself in under a blanket of colors over the ever-flowing ocean waves.
People don't accidentally slip into beachfront luxury condominium lifestyles; it's a lifestyle crafted by choice with intent. When you're dreaming of building a waterfront lifestyle in Clearwater Beach's Sand Key district, check out the unique architecture, design elements, luxurious amenities, and lifestyle options at Cabana Club.
Welcome home to the Cabana Club, and to lifestyle as unique as you are.
Your real estate agent is the best source of information about the local community and real estate topics. Give Cyndee & Jack Haydon a call today at 727-710-8036 to learn more about local areas, discuss selling a house, or tour available homes for sale.