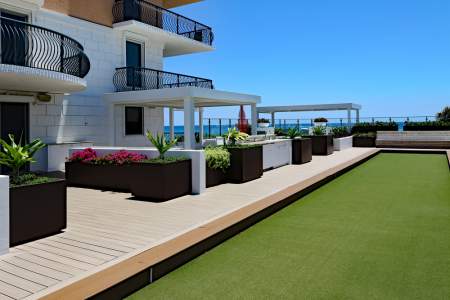 Life doesn't get much better than the beachfront luxury condominium lifestyle of Clearwater Beach, Florida and Sand Key. There are dozens of condominium communities in Clearwater, each with unique features and offerings. Your job is to prep your wish list for location, amenities, price, architectural style and design elements, and the ability to host the social activities you engage in regularly – whether that's pool parties, beach barbecues, boating adventures, or enjoying touristy things like visiting the shops. Then measure your wish list against the available options. But you might just cut to the chase. Play one-two-skip-a-few and land directly at Meridian on Sand Key.
The Meridian on Sand Key features 106 residential units encased in two towers, each of which is twenty stories tall. Each building, constructed in 2,000, includes two high-speed elevators. There are covered auto courts, covered portico entry, 24-hour manned security, and a telephone operated security system. The floor plans offer two or three bedroom units spanning 1,500 – 3,000 square feet of living space, for a sales price that starts as low as $600,000 and up to $1 million or more. The units feature modern, open floor plans, gourmet kitchens, high-end finish work, and more.
Amenities are second to none at Meridian on Sand Key in Clearwater Beach. Meridian on Sand Key offers a gated entry, heated swimming pool and spa, a sauna, steam room, fitness center, billiards rooms, social parlor with caterer's kitchen, garage parking, concierge service, and more. Maintenance fees are around $1,000 per month.
Got beach? When you live at Meridian on Sand Key, you are approximately 800 feet from your balcony to the Gulf surf. Follow the 400-foot boardwalk that connects the pool area to the gorgeous Gulf of Mexico.
Your pets are welcome here, too. In fact, Meridian on Sand Key has a more relaxed pet policy than other condominium communities in the Clearwater Beach area. Homeowners living at Meridian on Sand Key can have up to two pets that weigh no more than 40 pounds each.
Don't worry about vacation party-animals crashing your place on holiday. The Meridian on Sand Key enforces a 90-day minimum rental agreement, so you won't have weekly renters turning over all summer long in the unit next door. However, that rental agreement could mean that Meridian on Sand Key may not be your best choice if you're looking for an investment property or vacation home as opposed to a primary residence.
When you're looking to create a life of luxury on the waterfront of Clearwater Beach and Sand Key, you have many options for resort style condominium and townhome living. Some communities cater to recreational activities such as boating and fishing while others focus more on community amenities such as swimming pools and fitness centers. When your aim is to settle into a home that is as comfortable as it is practical, as impressive as it is convenient, and as perfect for your lifestyle as can be, then check out Meridian on Sand Key – luxury condominium resort style living in Clearwater Beach, Florida.
Your real estate agent is the best source of information about the local community and real estate topics. Give Cyndee & Jack Haydon a call today at 727-710-8036 to learn more about local areas, discuss selling a house, or tour available homes for sale.