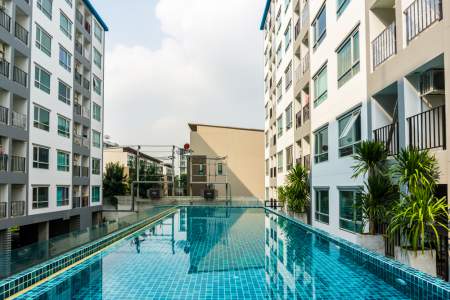 Deciding to live the condo beach life is exciting, even if it's a second vacation home and not a primary residence. And finding a beachfront condo in Florida isn't a challenge – there are dozens of condo complexes peppering the white sands of Sand Key and Clearwater Beach. However, not all of the condos are created equal. Each has special nuances and features setting it apart from the rest, so you've got to explore them all to discover which condominium lifestyle is right for you. You may find yourself right at home in Landmark Towers.
Landmark Towers consists of two buildings; the first of which is 20 stories high, and the second being only ten. Constructed in 1980 and 1981, the Landmark Towers condos are designed with studio floor plans, one bedroom condos, and two bedroom homes. Many of the homes have been renovated to include high end appliances, upscale finishes, and modern touches.
Studio condominium homes have about 535 square feet of living space and sell for about $100,000 and up. One bedroom homes span about 900-1100 square feet of living space and sell for about $200,000 – $300,000. Two bedroom units consist of between 1100-1500 square feet of living space and sell for around $300,000 – $400,000. Average recent sales are for a two bedroom, two bathroom floor plan with 1100 square feet of living space for a sales price of around $354,000.
One of the benefits of beachfront condominium lifestyles in Florida are the community resources and amenities that come with ownership. Amenities of Landmark Towers include two Gulf-front heated swimming pools, spa, two lighted tennis courts, shuffleboard, a fitness center, recreation building with clubhouse for entertaining guests, playground, on-site 24-hour security, on-site management, 24-hour maintenance, and assigned parking.
Landmark Towers is conveniently located in Clearwater, Florida, with easy access to shops, restaurants, and recreation. Landmark Towers is just 1/2 mile south of Sand Key Park, two miles from Clearwater Beach, and less than 25 miles from Tampa's international airport. If you didn't feel like staying in and enjoying the comforts of your beachfront condominium or community amenities, you could easily walk to nearby resources and entertainment. But the area also has excellent public transportation thanks to the Jolley Trolley, the public transportation system for Clearwater Beach, Florida. Landmark Towers is located at 1230 Gulf Boulevard in Clearwater, Florida.
And don't worry, your pampered pooch can come, too. Homeowners belonging the Landmark Towers Association are permitted one small dog up to twenty pounds.
Why pay for boat docks you won't use? Or for putting greens if you don't golf? Why choose a place without a fitness center when so many complexes offer them, or why settle for a home "near" the beach instead of on the beach like you dreamed of? There are plenty of options for condominium lifestyles on or near the beach. When touring condos, compare their location, size, design features, amenities, and then determine which condominium community offers the resort lifestyle you deserve. You may find yourself right at home at Landmark Towers in Clearwater, Florida.
Your real estate agent is the best source of information about the local community and real estate topics. Give Cyndee & Jack Haydon a call today at 727-710-8036 to learn more about local areas, discuss selling a house, or tour available homes for sale.