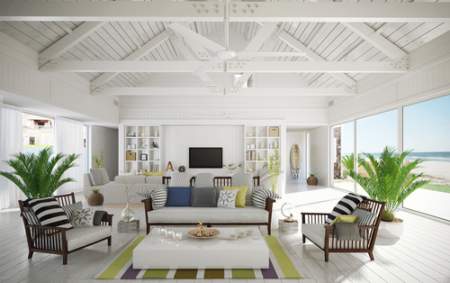 The beach life doesn't happen by accident, and your dream of waterfront living is ready to manifest at Bayside Gardens in Clearwater Beach, Florida. Built in the early 1970s, Bayside Gardens is a waterfront condo/townhouse community comprised of about four buildings that are each two to three stories high, each with about 38 units. Making residents feel right at home for more than forty years, Bayside Gardens is known for its stunning views, pet-friendly atmosphere, and well-maintained grounds.
Bayside Gardens waterfront condominium community in Clearwater Beach, Florida offers multiple floor plans that include one to three bedroom homes ranging in size from 800-1500 square feet, and range in price from $200,000 – $350,000.
Clearwater Key Association – Bayside Gardens, Westcoast Management and Realty, Inc., manages Bayside Gardens. The community is situated one mile south of Sand Key Park, Just two miles south of Clearwater Beach, and is within 25 miles of the Tampa International Airport. Bayside Gardens is conveniently located next to the shops of Sand Key and the Columbia Restaurant, across the street from Sand Key's beaches.
While the neighborhood's popularity was mounted on its stellar views of sailboats, dolphins, manatee, and sunbeams glistening from ocean waves, additional amenities include a heated year-round swimming pool and covered parking.
Dog lovers delight in the pet policies at Bayside Gardens condominium homes. Some of the buildings are pet-friendly and free of weight restrictions. The community is designed and maintained with pet-lovers in mind with several walking areas and pet sanitation areas.
Bayside Gardens is located at 1301-1451 Gulf Boulevard in Clearwater Beach, Florida 33767.
Residents enjoying the lifestyle offered by Bayside Gardens also enjoy the beautiful weather, endless recreation, amenities, and public transportation that makes it so easy to live the good life in Clearwater Beach, Florida. There is always somewhere to go, something to do, someone to see – and yet a laid-back down-to-earth relaxed vibe.
For those who choose, there are nightly sunset festivals at Pier 60 with street performers and live entertainment as well as artists showcasing their creative wares for sale. Residents are just moments away from hundreds of shops, restaurants, spas, golf courses, beach activities and watersports, and endless options for entertainment. And, for the others, there are lazy days relaxing in the comforts of home with awe-inspiring ocean views, and instant-access to powdery-white sands for barefoot strolls along the beach alone or with your favorite human or canine companion, or afternoon lounging in the comforts of the heated swimming pool.
Enjoy a life where morning coffee is consumed on the patio with cool breezes, the sounds of ocean waves and opinionated seagulls. Let your eyes gaze upon the colorful sailboats, or the sightings of dolphins or manatee. It sounds like a vacation; but instead, it's a resort waterfront lifestyle like those celebrated at Bayside Gardens in Clearwater Beach, Florida.
Owners can live comfortably without concern of heavy tourist turnover in condominiums. Units are bound by a 90-day minimum rental agreement, so no unit is subject to weekly renters in vacation mode.
Your real estate agent is the best source of information about the local community and real estate topics. Give Cyndee & Jack Haydon a call today at 727-710-8036 to learn more about local areas, discuss selling a house, or tour available homes for sale.