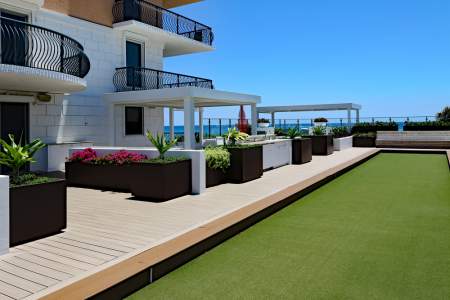 You're in Clearwater, Florida and the luxurious beachfront condo life is calling. The good news is that Clearwater Beach and Sand Key are chock full of options for luxury condominiums and townhomes. These condo complexes and townhome communities are custom-tailored to various interests, lifestyles, and desires, so each community is unique. When you find yourself ready to begin the journey into finding the perfect luxury beachfront condominium in Clearwater, don't forget to check out South Key Condo South Bay.
Located at 1501 Gulf Boulevard, the first draw to the South Bay lifestyle at Sand Key is that it has a crosswalk to Gulf Boulevard with direct access to Sand Key beach. You've got an instant, all-access pass to fun in the sun and water play on private beaches while still being within walking distance of all the public excitement of Clearwater Beach and the vacation vibe.
South Bay, on the shores of Clearwater Harbor, offers two or three bedroom units that range in size from about 1,400 to around 2,000 square feet of living space. Homes in the area have average sales prices between $300,000 and $500,000. Units come fully furnished, which make them fabulous investment properties or part time vacation homes. However, the community does enforce a 90-day minimum rental policy, which also means you won't be overrun by over-populated neighboring units used as high-turnover crash pads for vacation party animals.
Community amenities at South Bay Condominiums include a security gated entrance, renovated clubhouse with lobby, heated swimming pool with remarkable intercoastal views, mature landscaping, and covered parking.
Originally constructed in 1983, the community is well maintained with several of the units being renovated and updated to include state-of-the-art appliances, high-end finishes, and other creature comforts.
One struggle house hunters face when seeking out beachfront luxury condo lifestyles is that pets aren't always welcome. At South Bay, however, you're more than welcome to include one household pet of twenty pounds or less.
Designing a beachfront luxury condo lifestyle in Clearwater Beach doesn't happen by accident, and it isn't easy. There are a lot of condominium and townhome communities in Clearwater because the lifestyle is in such high demand. When you're house-hunting condo-style in Clearwater, you're not just considering location, price, and amenities, but also lifestyle choices, hobbies, and recreational activities. As a perk, an unplanned bonus of planned communities is that neighbors quickly discover they have an awful lot in common, which is fabulous for fostering community spirit, neighborhood events, and a comradely and rapport that makes it feel good to come home.
Consider South Bay for your primary residence, a part-time vacation property for you to enjoy in season, or an investment property you can rent out for increments of 90 days or more.
You've dreamed of creating a luxurious lifestyle on the soft sandy beaches of Clearwater. Consider setting that dream in motion at South Bay for prime location, excellent amenities, great views, beach access, and a life from which you don't need a vacation.
Your real estate agent is the best source of information about the local community and real estate topics. Give Cyndee & Jack Haydon a call today at 727-710-8036 to learn more about local areas, discuss selling a house, or tour available homes for sale.